Our EFQM Journey:
Firstly, you may be asking yourself what EFQM is all about. Well without getting into too much detail here is a brief introduction into the land of EFQM.
All things EFQM:
The EFQM excellence model is a non-prescriptive business excellence framework for organizational management, promoted by European Foundation for Quality Management (EFQM) and designed for helping organizations to become more competitive.
The EFQM Excellence Model provides a holistic tool for assessing how effective you are in developing and delivering a stakeholder focused strategy. The 4 result areas focus on what's important to the 4 key stakeholder groups (Business, Customer, People, Society).
At its simplest level, the Model is a cause and effect diagram. If we want to achieve a different result, we need to change something we do within the organisation. The Model provides a framework for understanding which levers we need to pull in order to achieve the results we want. It helps us understand the role each part of our organisation needs to play in effectively implementing our strategy.
EFQM is now actively helping to prepare a new generation of business leaders by offering training and development opportunities built on practice-based learning and exchange between organisations. The recipients of the EFQM Excellence Award, Europe's most prestigious award for organisations. Below you will find the levels of excellence that you can receive- The Skylon has received both Level 2 'Committed to Excellence as well as just receiving Level 4 Recognised for Excellence.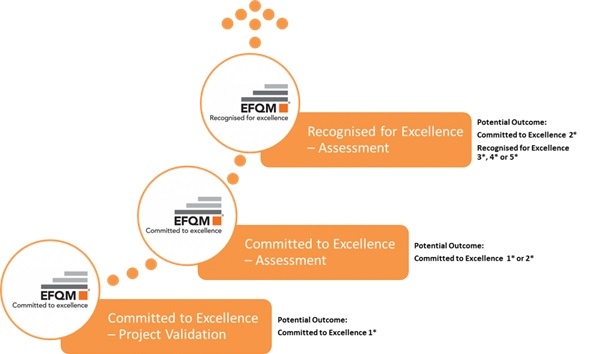 The Dublin Skylon's EFQM journey:
In 2015, the Skylon embarked on its EFQM journey. Through this process the hotel was aiming to achieve EFQM level 2 status of 'Committed to excellence' which thankfully the hotel accomplished as well as exceeding a very high score.
In late 2016 the Skylon achieved 4 Star accreditation from Failte Ireland as well as embarking on a very brave but tough decision to exit the 'Best Western' brand. From this, we were able to transition to be an independent 4 star hotel with the freedom to express our individuality and our Irish character.
When the hotel entered 2017, it was the first year that the Skylon has ever traded as a 4 star hotel and our main objective for the remainder of 2017 was to skip a level of EFQM and to compete for our Level 4 certificate and be 'Recognised for Excellence'. In November 2017, we achieved our goal and we were awarded with our recognised for Excellence 4 star by EFQM.
To be 'Recognised for Excellence' combines an externally validated analysis of our hotel's performance & recognising our achievements. It has provided us with a framework to increase our competitiveness, productivity and efficiency. We have also understood how well our management practises are at delivering results and also how in the future we will discover even more learning and improvement opportunities.
We are very proud of all of our achievements thus far but this has been one of the biggest years for the Skylon and the best is yet to come…