Covid Safe Operations
The Dublin Skylon Hotel is happy to announce that in line with Irish government recommendations, we will reopen our hotel, guestrooms & the Skylon Bar & Grill on Monday 29th June 2020. While we have missed seeing friendly faces, the safety and wellbeing of our guests, our team and the local community of Drumcondra has always been our foremost priority and concern. We have patiently awaited the day when we could welcome you back again.
We have always taken great pride in upholding the highest standards of cleanliness and service throughout The Dublin Skylon Hotel, and that commitment has only strengthened during these past few months. The safety and care of our guests, our team, and the community of Drumcondra is always our priority, and we are adhering to all recommendations for safety, sanitation, and social distancing from local authorities and public health experts.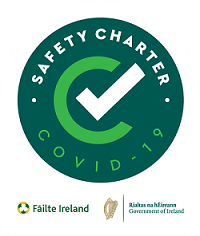 To assure the comfort, health, and peace of mind of all our visitors and associates, we have implemented the following detailed safety plan for our reopening: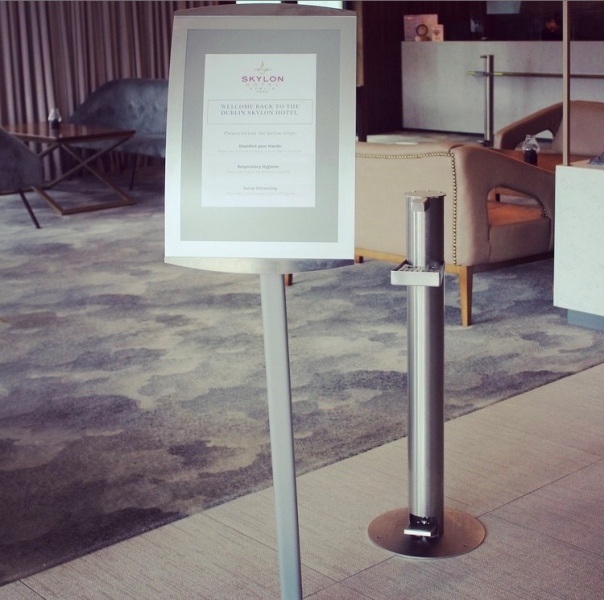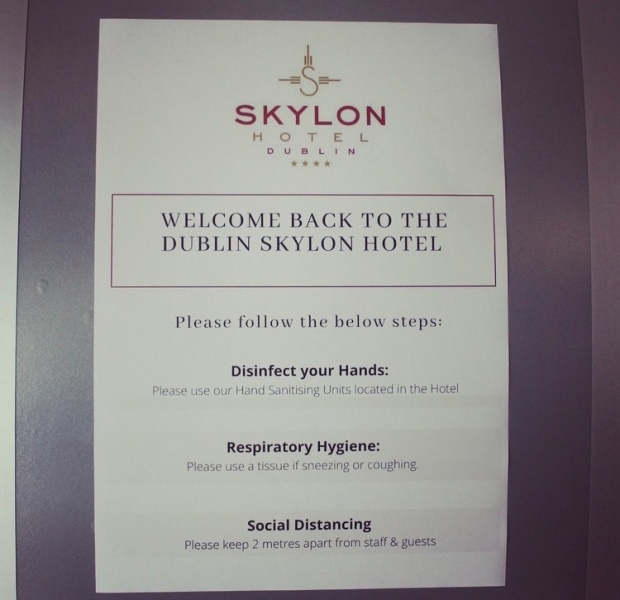 General Covid Safety Operations:
All operating procedures throughout The Dublin Skylon Hotel has been reviewed and reworked to ensure the same standard of service while adhering to social distancing and increased hygiene measures.
We have added sanitising stations at all key entry and exit points for use.
The hotel will operate a pre-booking process for all experiences throughout the hotel to ensure that all guests can be looked after while minimising queuing.
We have invested in PPE and screens in key public areas and back of house to ensure a preventative approach.
The Skylon team will be fully trained on best practices regarding Coronavirus.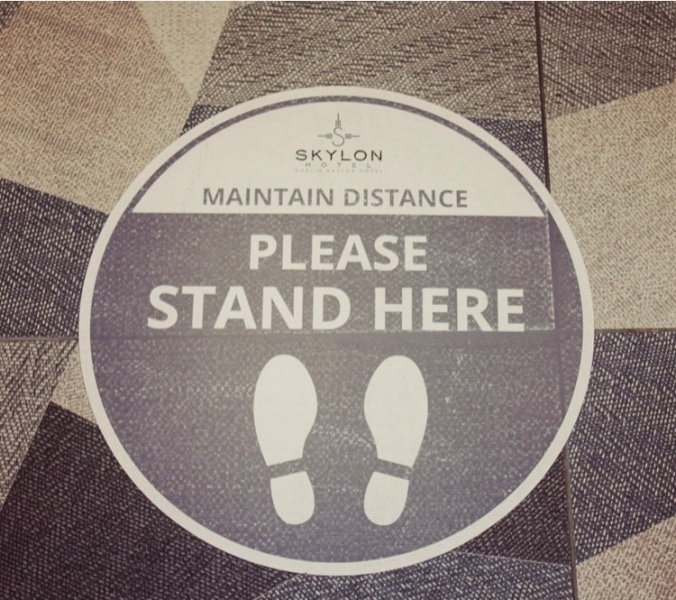 Skylon Bar & Grill
PPE: All our team members will be wearing personal protective equipment and have undergone training in how to put on and remove PPE safely.
Hand Sanitizer and Antibacterial Soap: Facilities to wash your hands with antibacterial soap or disinfect your hands with hand sanitizer are available in all food & beverage areas.
Increased Frequency of Cleaning: Door handles, tabletops, handrails, and trolleys are cleaned several times a day to ensure your safety.
Social Distancing: Our food & beverage areas and are following the 2 metre distancing guidelines throughout the front and back of house.
Digital Payments: We are encouraging cashless / contactless payments.
Menus: We will be using disposable menus to prevent cross contamination.
Condiments: We will be using individually packaged condiments.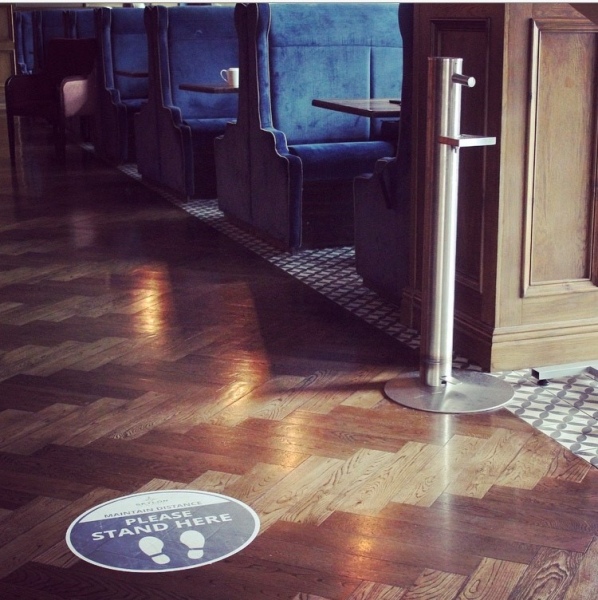 Pre-Arrival to the Dublin Skylon Hotel
Each guest will receive a pre arrival email that will have a detailed survey attached. Each guest will have to answer and return before arrivel to the Skylon hotel. We will customise your stay at the pre-arrival reservations stage to ensure all your preferred times are pre-booked for meal periods.
Arrival: Arriving guests will have a designated entrance for checking in. This will be managed by our Duty managers at the front door, and the lobby will also have clear signage denoting social distancing and directions.
Protective screens: We have installed protective screens at reception to protect our internal and external guests.
Sanitisation: Frequent sanitisation of high touch points such as elevators, reception countertop, credit card terminals, and pens etc. throughout the day.
Payment: Pre-payment will be taken, and room keys will be available for collection upon check in. This is a way of avoiding queues and time spent at the reception desk.
Arriving to the Dublin Skylon Hotel
Parking: Self-car parking available.
In-room requests: All our guest requests will be conducted while adhering to social distancing.
Departing the Dublin Skylon Hotel
You will leave your key card at reception and your receipt will be emailed to you. Your key card will then be disposed.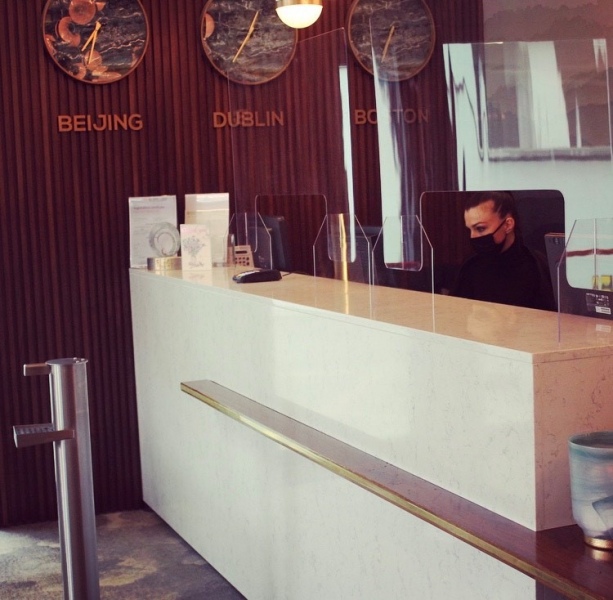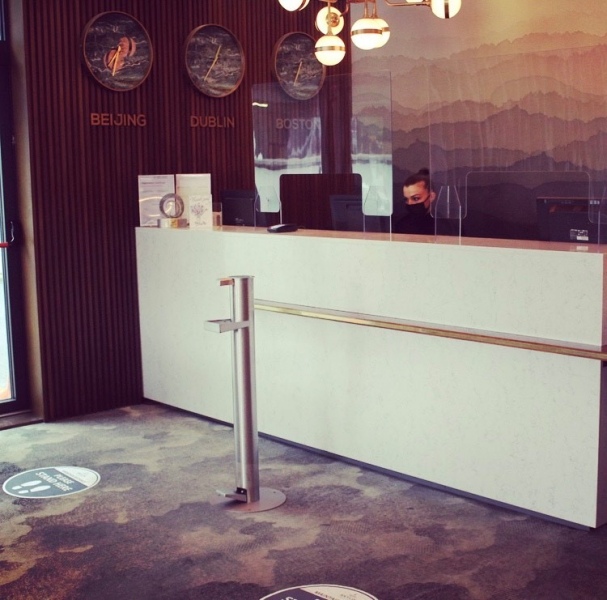 Housekeeping at the Dublin Skylon Hotel
All employees have undergone retraining on the latest protocols and best practice standards in relation to PPE, social distancing, cleaning standards and hygiene practices.
All cleaning standards have been fully reviewed and updated to ensure we have robust enhanced cleanliness and hygiene practices.
We have conducted a full review of all cleaning agents and chemicals in conjunction with our partner Ecolab.
Sanitising Stations: We have strategically placed hand sanitising stations throughout public areas.
Sanitising Schedule: We have implemented a documented sanitising program in place to ensure all public area high touch points (door handles/ lifts/ hand rails etc.) are sanitised on a regular basis throughout each day.